AWARDS
The Start of 2016 Brings us more Success
On March 19, 2016 Roger Bailey accepts the 2016 AWCI Award for Heritage/Restoration
Heritage/Restoration category award winner
Bailey Interiors Pty Ltd for their project of Gardens on Forest, Peakhurst

The function centre at Forest Rd Peakhurst required a makeover to transform it into a more professional and up market entertainment and wedding reception venue. Bailey Interiors were called upon to use their expertise and experience in decorative plaster to reinvigorate the ceiling areas. Old ceiling coffers were demolished and replaced with a combination of bulkheads and double tiered Paddington cornice in 6 separate bays. More details here>
The results and finish using the double cornice technique were absolutely spectacular and the workmanship and end results were a great endorsement of Bailey Interiors and their quality team of professionals.
Super Success
2015 has been an exceptional year again with the Association of Wall & Ceiling Industries (NSW & ACT) (AWCI) honouring us with 3 awards early in the year –
Category Winners in both Heritage/Restoration and Commercial categories plus Overall Winner.
We were then excited to receive another award at the National AWCI (Australia & New Zealand) Awards of Excellence Gold Coast Conference in October 2015 - winning the Non-Residential category for our manufacturing and installation of a very special ceiling in the Lidcombe RSL.
Non-Residential category award winner
Bailey Interiors Pty Ltd for their project of Lidcombe RSL, New South Wales
Greg Thomas, Rondo and Gary Wood, AWCI ANZ presenting the Non-Residential trophy to Bryan Flaxman, Bailey Interiors Pty Ltd
Overall winner
| | | |
| --- | --- | --- |
| | | Roger Bailey accepts the 2015 AWCI Awards for Bailey interiors |

The Awards are an important recognition of the skills that our staff employ every day but what does that mean to you, our Customers?
It means that you are working with the highest quality products in this very demanding industry. Bailey Interiors is an innovative company dedicated to giving you the best.
Products, both from our vast range of decorative items and those that are individually crafted for your Special Projects are of such a high standard that not only are you confident of the finished work but more importantly your clients are excited. The best form of advertising is a "happy client".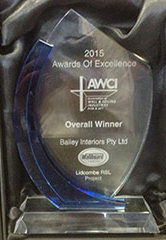 On Saturday 21 March 2015 the AWCI (Association of Wall & Ceiling Industries NSW & ACT) presented the Annual Awards for Excellence. The venue was exceptional, cruising Sydney Harbour throughout the afternoon of speeches, awards and fine dining on a double decked ferry with full glass windows giving magnificent views from every part of the boat.
Members of the Association were invited to submit their very best projects that they had done over the past year. An extremely high standard was seen in the projects submitted by the state's premier operators presenting the judges with some difficult decisions.
On Saturday, adding to the many awards that Bailey Interiors has received, we won two of the categories and then scooped the awards with the prize for the overall winner.
The two projects that put us in the Winners Circle were:
The Lidcombe RSL Project winner of the Commercial Category
and Point Piper Residence winner of the Heritage/ Restoration Category
Congratulations to Roger Bailey and all our staff – the combined efforts of modellers, casters, drivers, contractors and the office have resulted in these awards and in many other outstanding projects. We honour them for their skills and dedication.
Take a look at the projects we submitted last year:
Residential Category and Heritage / Restoration
Commercial/Non Residential Category